Product Description
Vinyl Profiles For Casement Windows
Vinyl, with more chemistry, can be made flexible or rigid, clear or colorful, thick or thin, making it the world`s most versatile plastic material, which is composed of two abundant building blocks: chlorine, based on common salt, and ethylene from natural petroleum. Vinyl profiles made by Lumei Construction Material Co., Ltd have strong, durable, abrasion and moisture resistant properties, withstand rust and corrosion, are electrically non-conductive and have excellent fire performance properties. Except these characteristics, Lumei vinyl profiles apply superior design and engineering, offer you energy efficiency, aesthetics & design flexibility final product.
Pvc Window Profile Pvc Door Profile PVC Window Frame Door Frame Profile
Baes on our professional experiences, now all the Vinyl profiles is made by Cazn stabilizer. So that can meet CE & RoHS certification yo confirm profiles' lead free. Curretly, our plant have a whole set molds including Casement for 60mm, 65mm & 70mm as well as Sliding for 60mm, 80mm, 88mm & 108mm for your choice. Any your comments or inquiry will have our best service.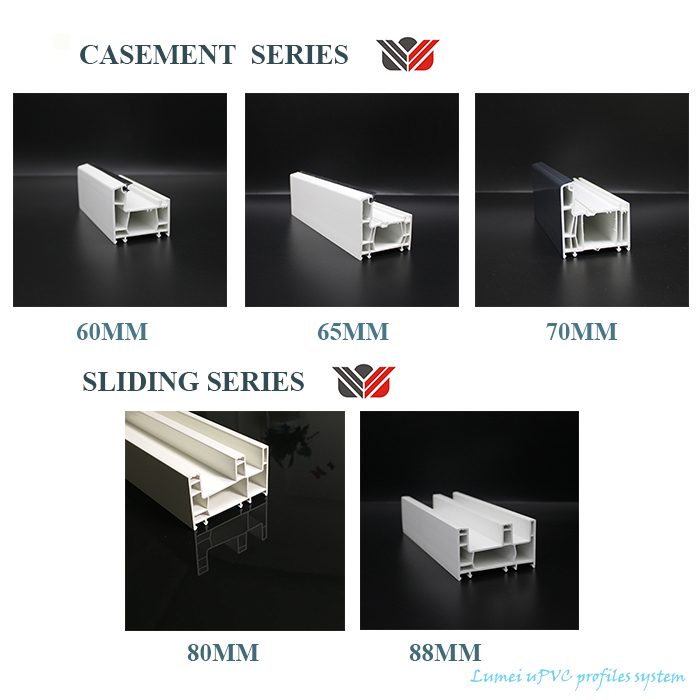 Pictures for our Vinyl profiles for casement windows:
Aluminum Clad Windows Double Glazed Windows uPVC Sash Windows