Product Description
Our lumei construction material company are always still produce upvc profiles and finished pvc windows for many years. we have 14 production lines to produce upvc profiles, and have whole machine to make finished windows doors. four head wleding machien , cutting machine etc. Our product mainly have 60mm/65mm/70mm casement series profiles;60mm/80mm/88mm/104mm sliding series profiles. we supply pvc profile,upvc profile,pvc window profile,pvc window frame,pvc door profile,door frame profile for upvc casement window and upvc sliding windows.
products color: wooden laminated film , white color,milk white/blue white color, black,gray colors with ASA technology.
All of our products are 100% lead free material and ensured by CE/RoHS/ISO 9001 certification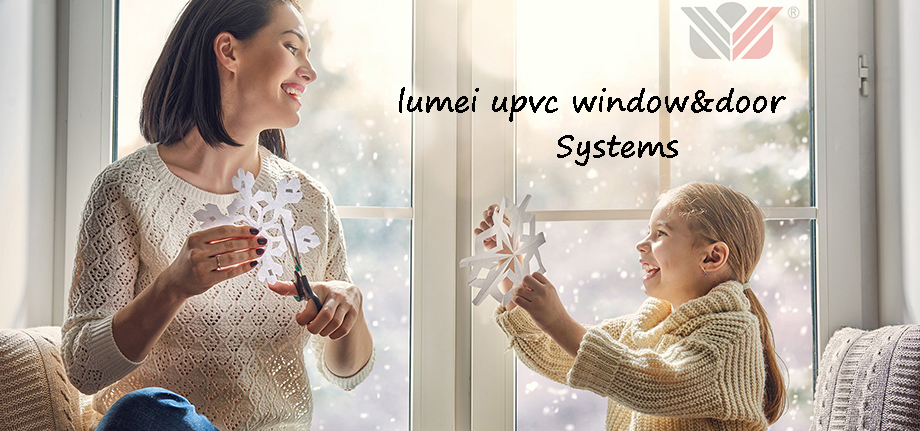 Products Advantages:
Good Quality Best Price UPVC Window Profile:
(1)Good Water Sealing Property for extruded pvc plastic profile
With rain-proof plate, and grooves and poles water drainage, doors and windows can isolate rain to outdoors completely.
(2)Aging Resisting about extruded pvc plastic profile
Adopting imported improver, and with ultraviolet-radiation-proof absorbent, plastic doors and windows remain the same color and without aging under burning sun, heavy rain, dryness, and wetness from minus 30 degrees to 70 degrees.
(3)Fire Proof Property about extruded pvc plastic profile
The plastic does not self-ignite, not support combustion, and can self-extinguish.
(4)Air-tightness
There are sealed strips on the gaps of joints, which can save energy.
(5)Easy Maintained
The PVC profiles will not be influenced by dust, cement, and agglutinant, etc. They can be cleaned by any cleaning agents.
(6)All pvc profiles are 100% lead free materials certified by CE/RoHS/ISO9001.

(7)Lumei upvc profile have special products have been added, and a sufficient amount of UV absorbers, titanium dioxide, has been added to achieve anti-aging, anti-oxidation and anti-ultraviolet effects.
(8)Lumei upvc profile The multi-cavity design structure prevents the heat from being dissipated too quickly, thereby making the heat preservation performance good, and the upvc material is not easy to be burned due to the addition of the flame retardant material.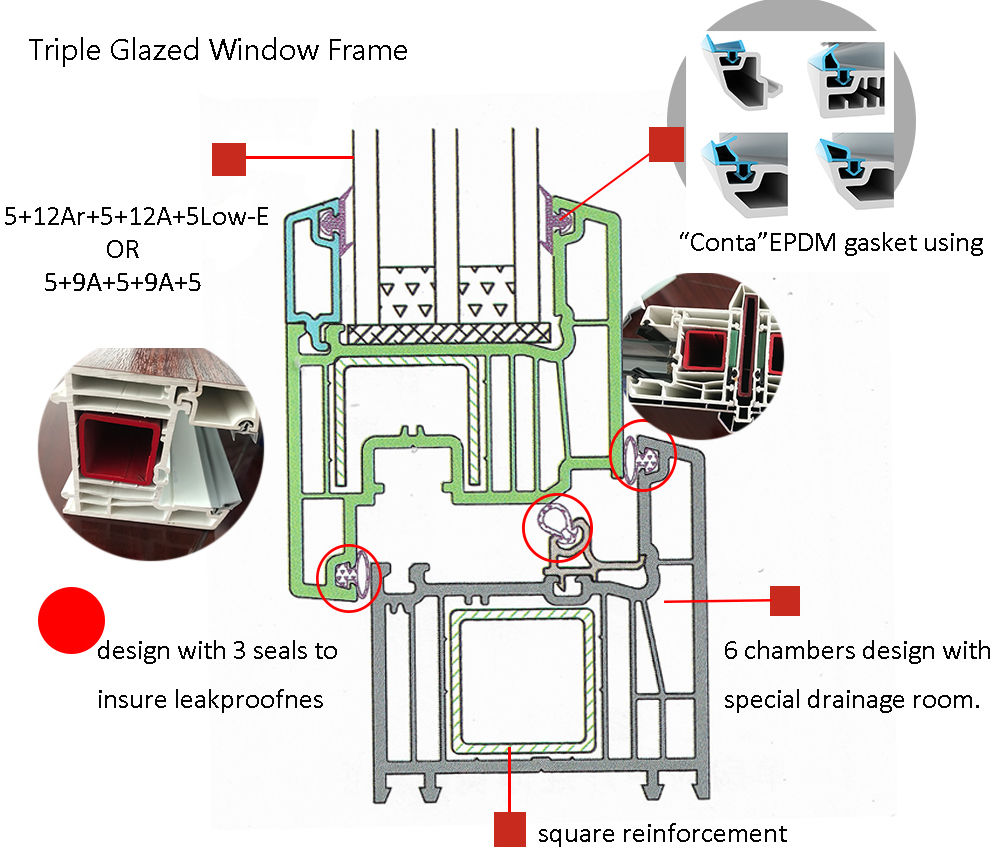 How to make uPVC door? Material? Color? Acessories?Glass?
Material: Frame,Muillionm,Door Sash,Glazing Bead
Color:White ,black,brown,grey or wood laminated colors
Accessories: Handle,door lock,hinges,rollers
Glass: Single or double or triple glass;white or colored glass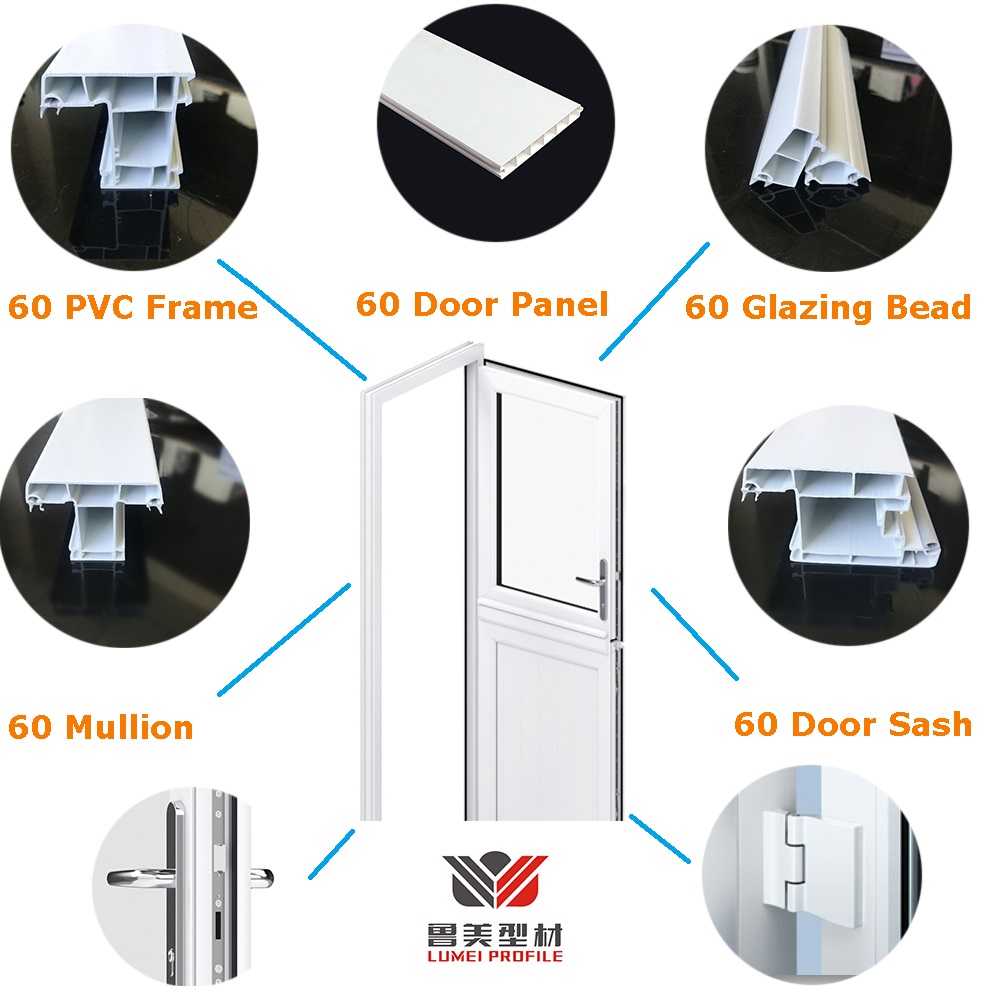 The test laboratory is equipped with the following instruments:
UTM - for tensile and weld strength testing and compressive strength.
Impact Tester - For contour strength.
Drop Quality Tester Zero Freezer Unit: Find contour breaks at low temperatures.
Hot blast stove: Look for properties of thermal stability and shrinkage.
Density tester: Find the density of the outline.
Filler Content Test: Find the filler content that determines the quality of the UPVC compound.
Vicat softening temperature test: test the thermal properties of the profile.
Hardness tester: find the hardness (rigidity) of the profile
Spectro photo meter: Find color changes in the profile.
Gloss meter: Find the surface finish.