Product Description
Why choose PVC Profile for window-----(1) Multi-functional, suitable for any family PVC profile is a simple choice to provide energy efficiency. Designed to be rugged, strong and safe. There are a variety of styles and options to choose from and there are options for all properties. (2) In fact, maintenance-free our uPVC windows is durable and easy to maintain. uPVC is a durable material that never rots, rusts, flakes or flakes. It is also lead-free and fully recyclable. They are also equipped with easy-to-clean hinges, so they only need to be wiped occasionally with warm soapy water to keep them looking good all year round. (3) Warmer and quieter Our uPVC windows are A+ standard and are the perfect fit for tailoring. The frame and sash have multi-chamber profiles that prevent heat from escaping, and the low-radiation interior glass reflects heat back. The gap between the panes is filled with argon to ensure that the cool air is airtight and the separator gasket coating is low in conductive material to retain more heat. Then there is a double weatherproof Q-Lon seal to prevent rain and airflow. It is this that makes your home warmer, quieter and helps you save on energy costs.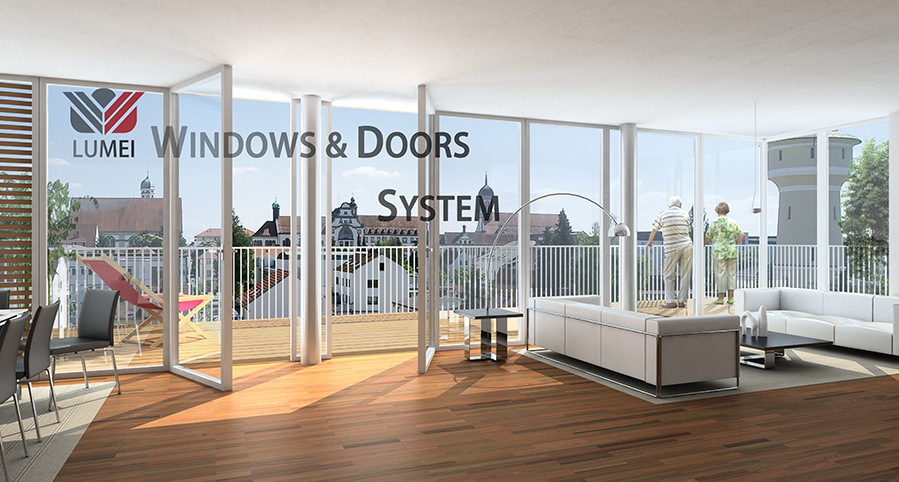 CASEMENT uPVC WINDOWS
One of the most popular uPVC windows styles, the casement uPVC windows is your picturesque offering the maximum unobstructed view of outside. It features a sash that is hinged from the side on an outer frame and can open inwards or outwards, to the left or right, allowing maximum flow of air into the room. Extremely energy efficient when closed, this casement window comes in varied designs like side hung, top hung etc.
FEATURES & BENEFITS OF PVC PROFILE
Super sound insulation and highly energy efficient Double sealing to keep out noise, dust and pollution High quality hardware that does not rust or corrode Multi-point locking for enhanced security Double/triple glazing options for better thermal and sound insulation Protects against rain water seepage and storms Available in variety of designs, colours and hardware Custom sizing available
LET LIGHT INFLUX OF PVC PROFILE
The patio door is a sensible, practical option that allows more light to flow into your home and allow access to your garden. Choose uPVC that is easy to maintain.
Series of choices
The patio door can be designed the way you want. From traditional gold oak to modern battleship grey, you can choose from a variety of frames and handle colors.

SAFE AND RELIABLE
A larger glass area will not make your door less secure. Our glass is heat-toughened and very difficult to break. We also use internal glass beads so the glass cannot be removed from the outside and the anti-life safety strip prevents the door from being lifted out of the frame.
High thermal efficiency
There is a 20 mm gap between the panes, Low-E interior glass, weatherproof seals and turbulent ventilation help keep the heat in the home. Our patio doors are also completely insulated; the door panels are joined into the channels in the outer frame to provide ventilation resistance.
Sliding Pantio Door PVC Profile 88mm/100mm for you!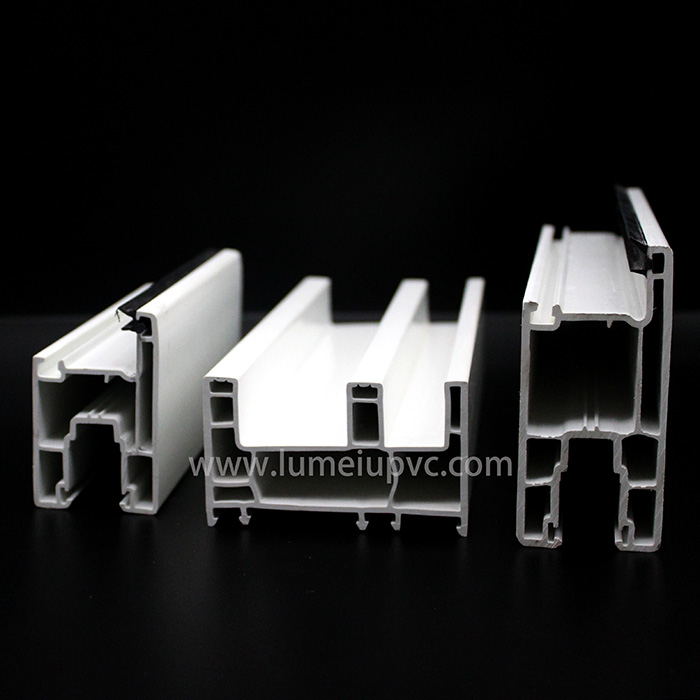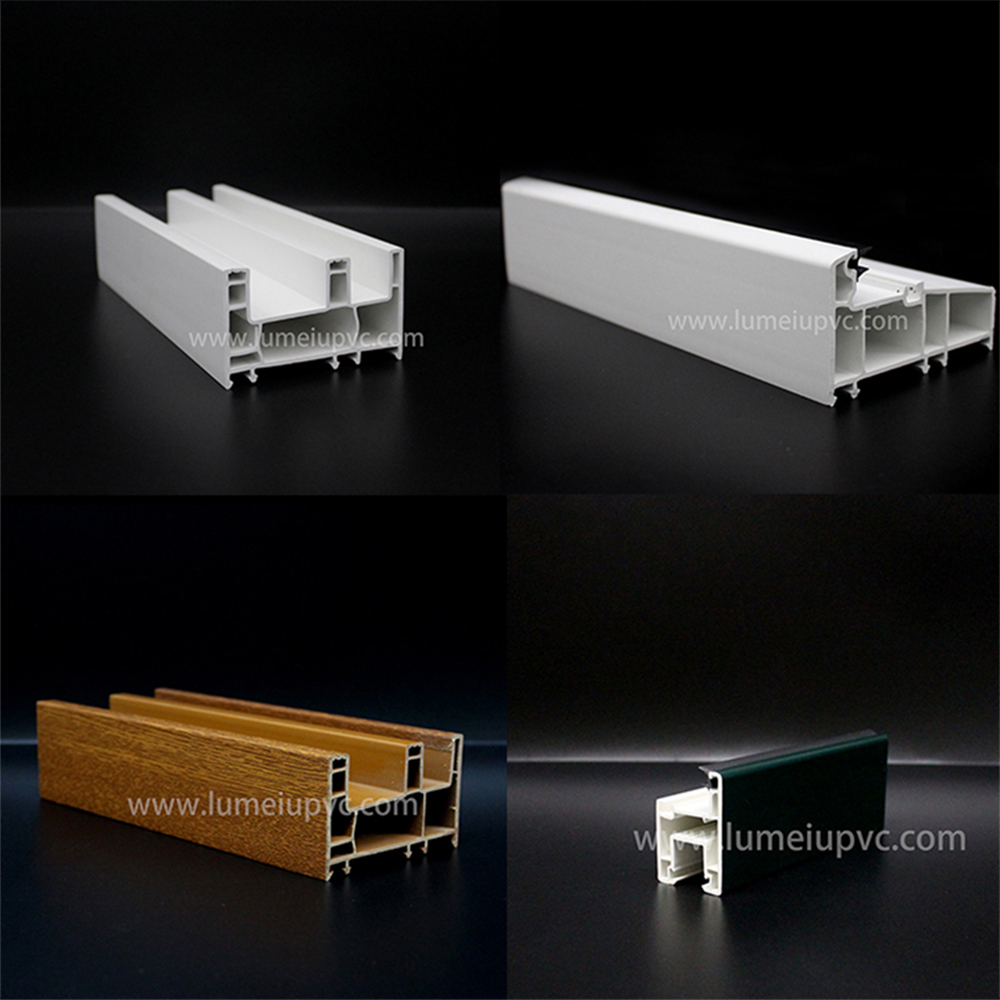 Certification of upvc profile:
--Lumei upvc profiles are lead free and all of products are ensured by CE/RoHS/ISO9001 Certification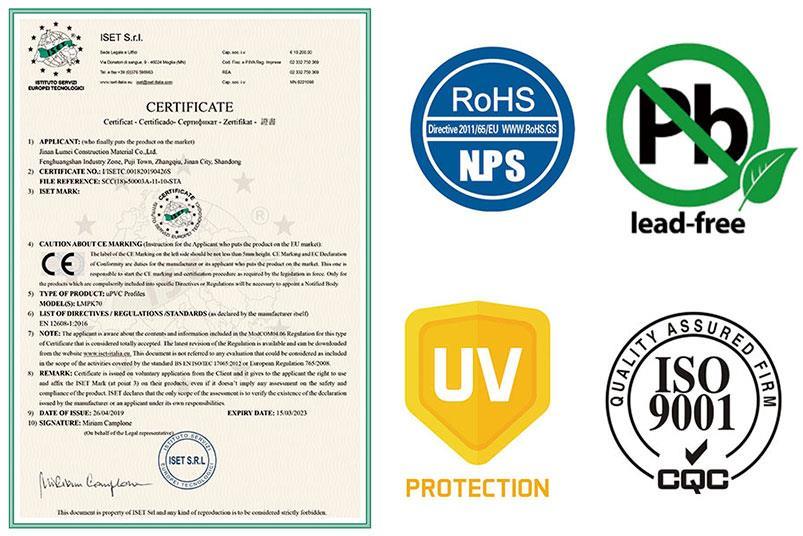 --Lumei PVC profile are 100% raw material 100% recyled materials .Really environmentally friendly
--Lumei PVC profile have special products have been added, and a sufficient amount of UV absorbers, titanium dioxide, has been added to achieve anti-aging, anti-oxidation and anti-ultraviolet effects.
--The surface of the Lumei PVC profile product is smooth, it is not easy to accumulate dust, easy to clean.
--Lumei PVC profile The multi-cavity design structure prevents the heat from being dissipated too quickly, thereby making the heat preservation performance good, and the PVC material is not easy to be burned due to the addition of the flame retardant material.
Our Services

--Pre-Sale Service

Professional advisory : Provide professional information platform.

Live demonstration: Training in the use our products .

Inspection measurement: Combined with the actual environment ,measurement ,for the most reasonable design scheme.

Professional design : According to the requirements and our experience in the design of a variety of solutions.

Honest quotation: Plain code marks a price , the pursuit of win-win with customers.

Modify solution :Let your satisfaction is our pursuit.

Home sign :Let your peace of mind and effort is our responsibility.

--Service on Sale

Sale service mainly to coordinate schedule with party a to ensure the quality and time limit for a project ,

Doors and windows packaging,special professional inspection ,installation,commissioning ,inspection on a regular basis.

--After -Sale service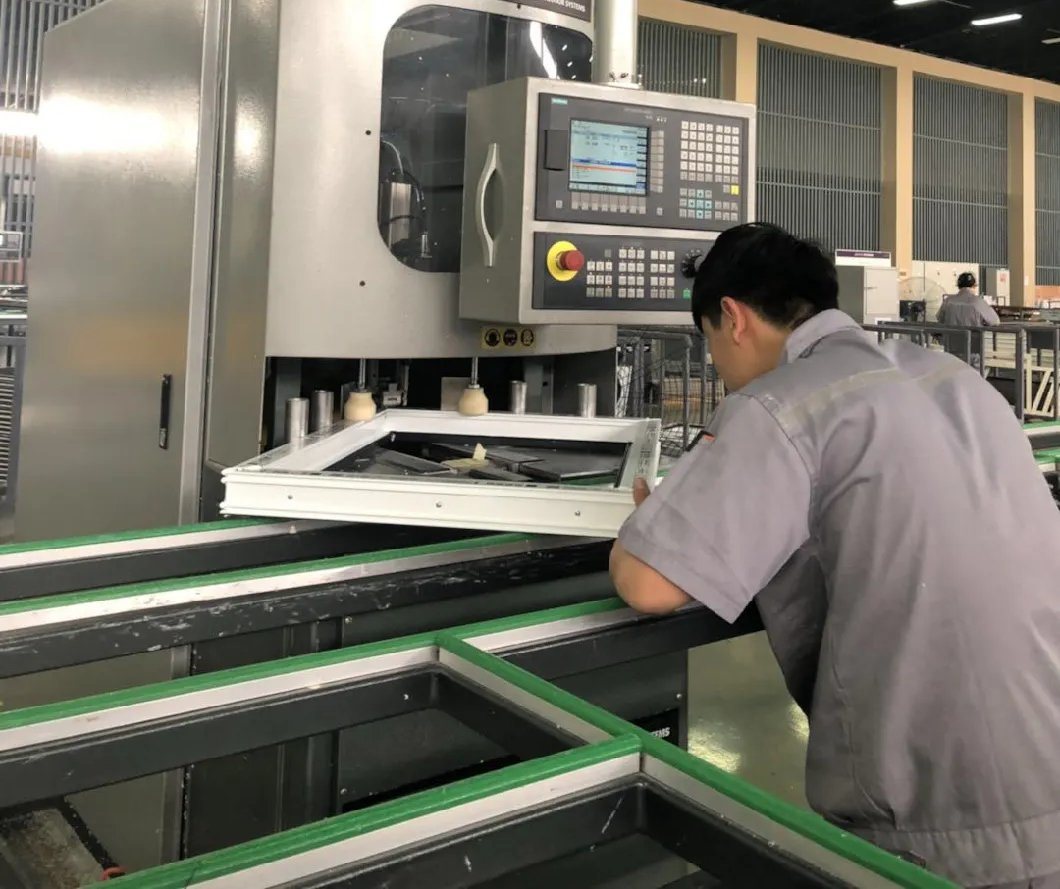 --The content includes :

1>The doors and windows hardware fitting are not open and flexible.

2>The sealing strip is not flat,off tank,curling .

3>Drainage holes , the pressure balance channel is not smooth.

4>Construction sealant peeling off the trough.

5>Fogging phenomenon of hollow glass inter layer in the winter.
If you have any need of PVC Profile welcome to contact me!