Product Description
Our "ZHIZHEN" high-end doors and windows systems,Lumei 70mm "ZHIZHEN" series using the excellent environmental protection formula the international standard lead free material.Passed by RoHS certification.The profile of thickness more than 2.8mm is european standard with six chambers and independent drainage chamber, strength the drainage performance ,has good heat preservation and engry saving effect, then certificted by CE.
70MM Series used three seals design with high quality gasket"EPDM",Reduce the heat comduction.heat insulation performance is more outsanding. Ensure the tightness window can arrived airtight level4,watertight level 3,thermal insulation 8.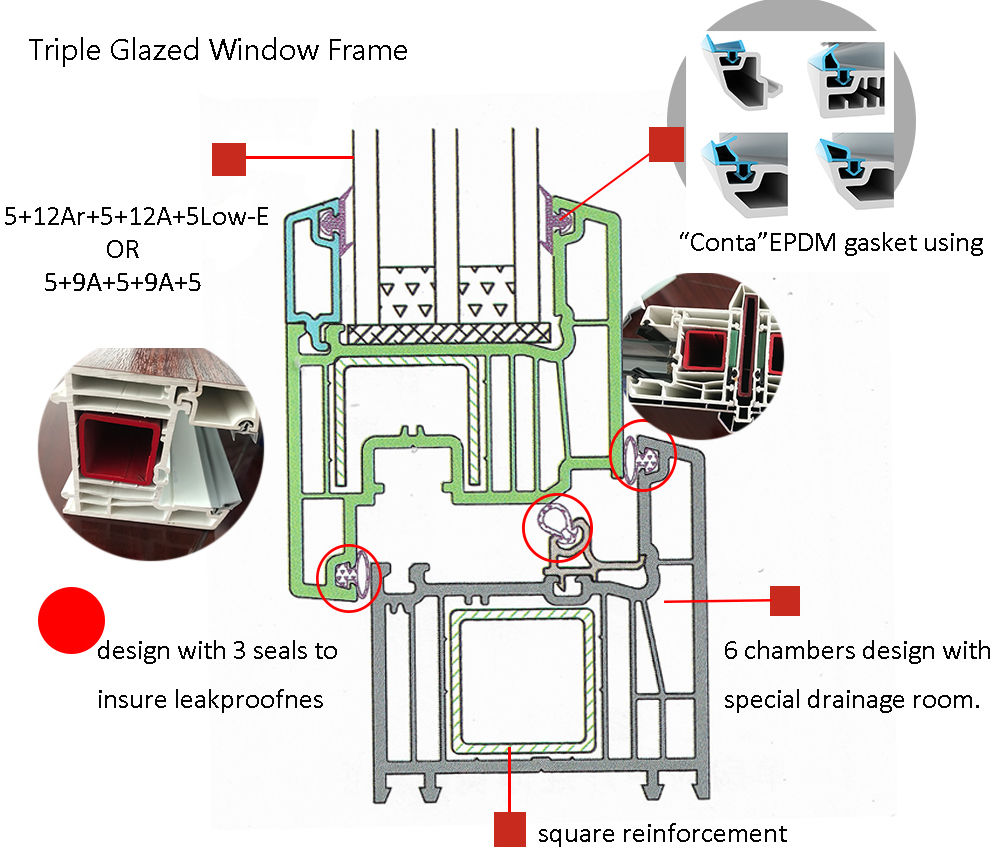 70MM series uPVC Profile for windows and doors with many finished style: Wire Drawing;Embossing profile;Laminated film profile;ASA double extrusion profile;Plastic co-extrusion profile;Fluorine carton spraying;Aluminum coated uPVC profile.
70MM series uPVC Profile have double glazing bead, triple glazing bead,triple glazing bead with 3 seals.
Advantages of upvc profiles for windows and doors


uPVC is a very durable material used in water and sewer pipes for at least 100 years. Vinyl windows are so durable that the vast majority of them installed over the past 25 years are still in use without any issue.
Unlike metals, uPVC is non-conductive meaning its use in window frames does not transfer heat and therefore contributes to a more consistent internal temperature for a building. .
uPVC can be recycled as often as 10 times. Where they have been commonly used for the past 30 years, such as in Europe, uPVC windows and doors can be - and are - recycled at the end of life.
Even if you live close to busy roads, your home will be soothingly quiet with Oreta uPVC windows and doors. Oreta`s window system can achieve a Sound Transmission Class rating of upto 44 dB.


Certification of upvc profile:
--Lumei upvc profiles are lead free and all of products are ensured by CE/RoHS/ISO9001 Certification
--Lumei upvc profile are 100% raw material 100% recyled materials .Really environmentally friendly
--Lumei upvc profile have special products have been added, and a sufficient amount of UV absorbers, titanium dioxide, has been added to achieve anti-aging, anti-oxidation and anti-ultraviolet effects.
--The surface of the Lumei upvc profile product is smooth, it is not easy to accumulate dust, easy to clean.
--Lumei upvc profile The multi-cavity design structure prevents the heat from being dissipated too quickly, thereby making the heat preservation performance good, and the upvc material is not easy to be burned due to the addition of the flame retardant material.
Loading and packing of upvc profiles

one 45HQ container can load 28tons

one 40HQ container can load 25tons

one 20GP container can load 10ton