Product Description
How secure are uPVC windows?----uPVC as a material is being preferred ubiquitously due to its functional benefits. Add uPVC frames to specialized tempered and laminated glass, and you have highly secure windows and doors. Laminated security glass solutions provide a high degree of intrusion resistance.
uPVC known as unplasticised polyvinyl chloride or rigid PVC. The frames are known for being highly durable, fire-resistant, and recyclable. uPVC is extensively used in construction, especially with applications such as doors and windows. This is an ideal material to manufacture windows and doors owning to the many benefits served. uPVC material is eco-friendly and helps in preserving mother nature by reducing the use of wood and timber for constructing window and doors. It is very much economical and easy to produce as compared to timber.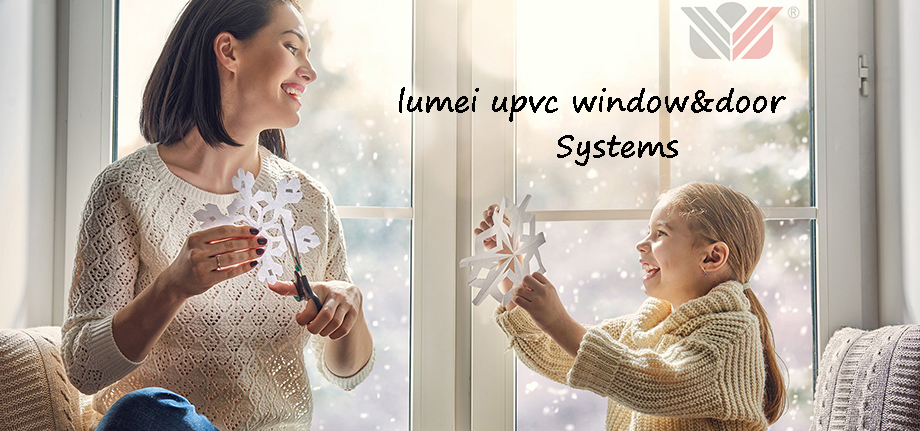 uPVC has many advantages over wood and other materials such it is low maintenance, noise resistant, weather resistant, cost effective, recyclable and heat resistant.

uPVC has the same insulation properties as timber without the maintenance.
uPVC window mitre corners are fusion welded, superior to mechanical assemblies for Wood and Aluminium.
uPVC frame U-value(heat transfer coefficient) is significantly lower than Aluminium.
Infra-red camera detection of low energy efficient window (right).
Quality
Completely harmless to humans.
Excellent sound insulation properties.
Perfect thermal insulation.
Will increase the value of your home.
Very durable.
Performance
Resistant to environmental conditions.
Can be easily cleaned by using a mild detergent or soapy water.
Resistant to termites and do never rot, rust or corrode.
Prevents the development of diseases caused by mould and bacteria.
Excellent burglary resistance.
Efficient for many years.
Noise
Suitable for both new buildings and for the renovation of old buildings.
Customised for individual requirements.
Appealing visual appearance.
Available in laminated colours, more resistant than paint.
Noise Reduction
Windows which are attached at non linear angles are called bay windows. Aethetically pleasing they give a whole new dimension to the house and makes it stand apart.
Excellent Fire Proofing
PVC window profile systems are fully self extinguishing. Polymer the material that upvc windows profile systems are made from, is non combustible. upvc profile systems are manufactured under international standards, guaranteeing your safety
Environment Friendly
PVC window profile systems are made from ecologically friendly materials in terms of less pollutant materials than wood or aluminium.
Polymer is recyclable and so there is no material lost as all waste goes back into the recycling process.
Energy efficiency

uPVC Window Production Procress,As rigorous believers of sculpting perfection into your dream houses we work towards adding peace to your corners. The impressively weather proof uPVC windows keep the insides of your home well shielded against the hassles of climes.
Against the monotonous and weather clumsy wooden windows the water proof uPVC windows are designed to accentuate the placidity of your dwelling in monsoons. The monsoon proof uPVC windows are impervious to water and shield your house from water spurring in the insides during rainfall. Moreover the Sound proof uPVC windows are a better choice to keep you free of external noise chaos hence assimilating peaceful environs in the insides. The minimal maintenance makes them a cost-effective option for your dream house. The uPVC windows are durable and long lasting which is another advantage of these over the traditional windows.
Your house epitomizes your character and elegance, hence has to be timeless as regards appearance. Shielding the insides from weather hassles keeps your house stand tough against time and weather.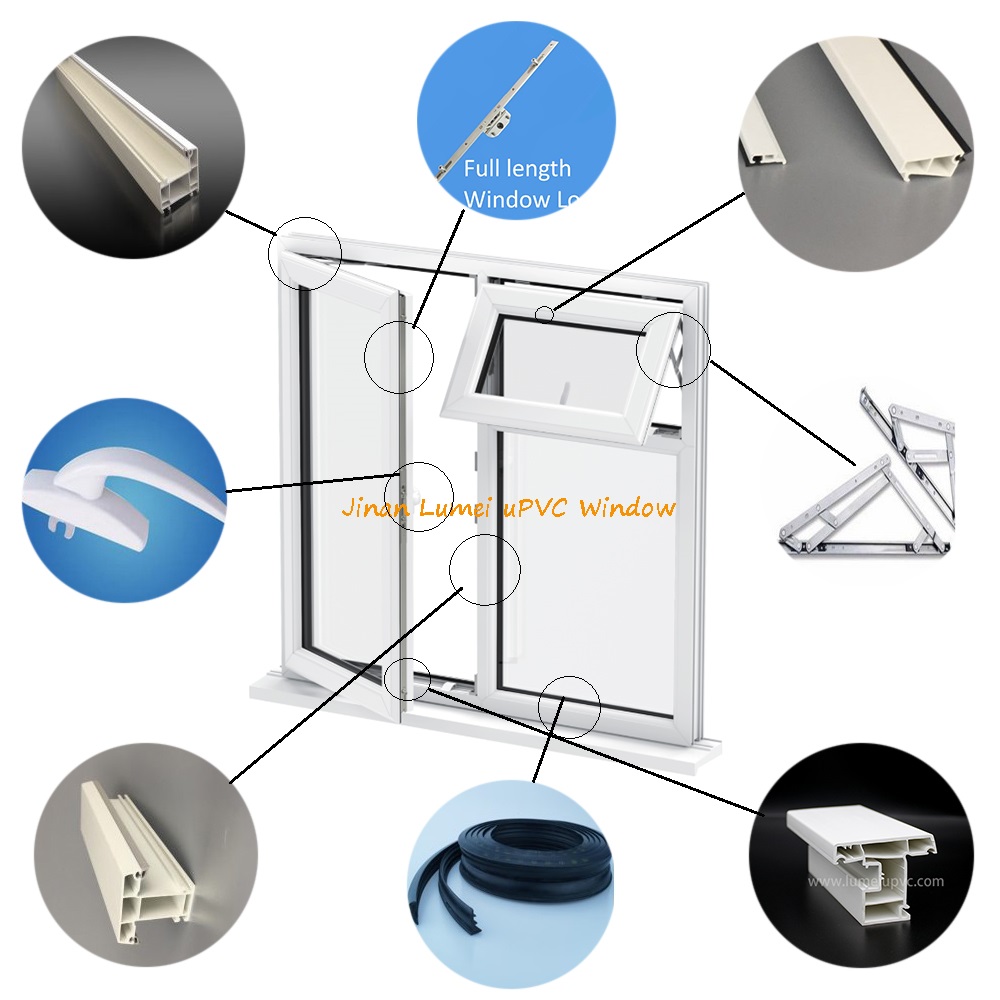 uPVC Door Production Need Profiles And Accessories,UPVC doors have high performance acoustic, thermal and weather resistant properties as well as multipoint locking for additional security.UPVC doors will provide an unrivalled level of thermal performance keeping you warm in winter and cool in summers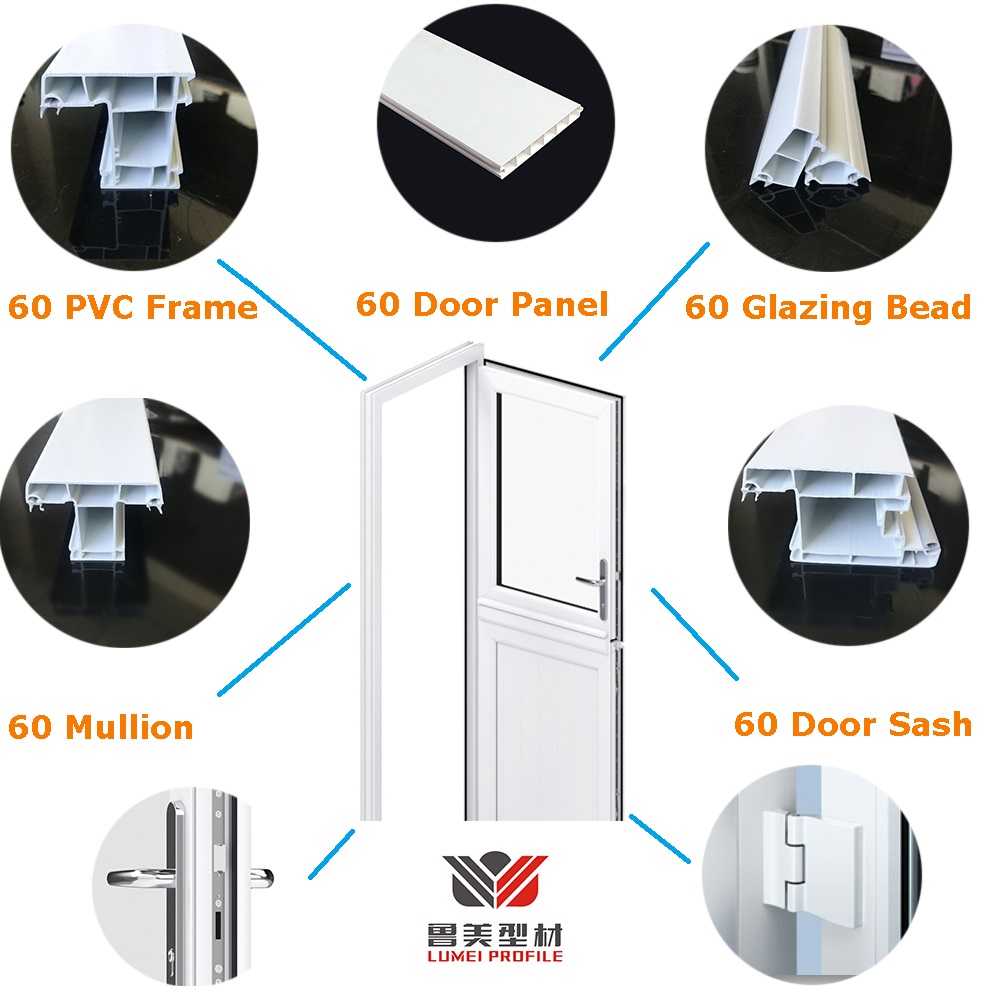 UPVC windows need not be only white.
Choose from classical white or range of woodgrain laminates.
Lumei offers UPVC windows in four beautiful shades of wood.
Best quality foils are laminated on UPVC to produce these natural wood finish UPVC windows and doors.

MODERN WINDOWS. UNIQUE IN FORM, COLOUR AND FUNCTION.
Visually Appealing
Maintenance free
Maximum Weather resistance