Product Description
How Lumei help to increase the insulation of your house and substantially reduce your energy bill?

Lumei PVC windows and doors provide a perfect balance between energy efficiency and comfortable living. This high-quality energy-efficient PVC window and door solution improves the quality of life in many ways. uPVC windows and doors offer excellent thermal and acoustic insulation properties, high security and an original colour palette. And remember that around 40% of heat loss in the home occurs through standard, single pane windows and doors. Double glazed windows and doors substantially reduce heat loss. You will soon recoup the cost of the double-glazing in the money saved from heating bills.
LUMEI WINDOW is a leading company in the national market, specialized in the design, manufacture and installation of doors and windows of PVC, tempered glass, curtain walls, skylights, glass pools, double facades, louvers and various accessories of the Highest quality。Since its foundation,LUMEI has been responsible for delivering innovative solutions, meeting the needs of all our customers including developers, architects, engineers, owners, etc.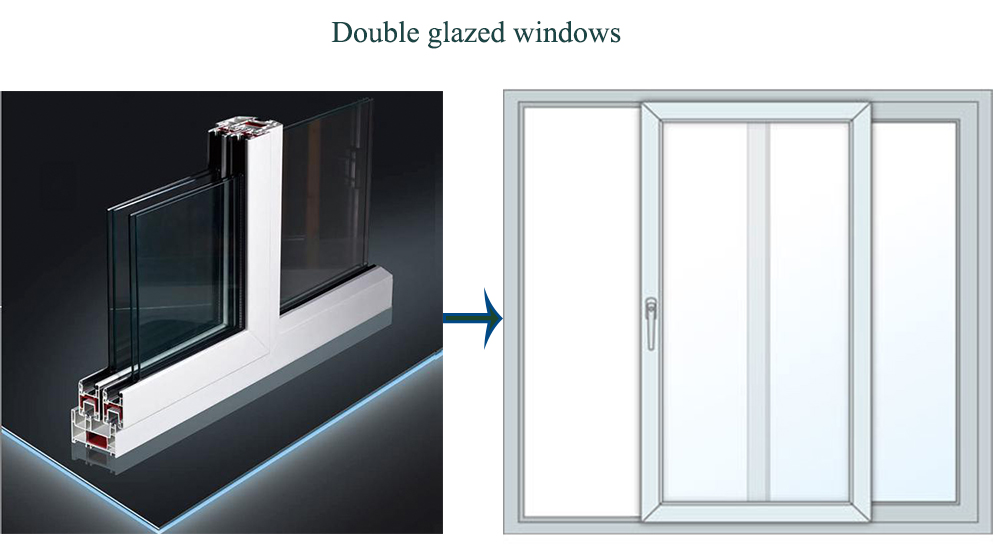 The advantages for using uPVC sliding Profiles
1, AGAINST THE SUN
Stability of color and resistance to the passage of time
2, WEATHER CONDITIONS
Air and water tightness, safety in electrical storms
3, THERMAL ISOLATION
Because of the poor thermal and electrical conduction of PVC, PVC windows do not transmit heat, cold keeping environments at stable temperatures.
4, ACOUSTIC ISOLATION
Because of the poor thermal and electrical conduction of PVC, PVC windows do not transmit noise, keeping pleasant environments.

High-performance Glass
Large Selection of Colours (interior and exterior)
Virtually Unlimited Grille and SDL Patterns
Custom-made shape
Triple-glass glazing bead available

Except that, Lumei UPVC Profiles has better improved Good Points. uPVC sliding profiles
1. The design of 4 chambers and 3 tracks improves heat-solution of windows&doors.
2. Mosquito mesh can be installed on this slide window.
3. Between 3 tracks, our design of track is lean-design, with top-position drainage structure. It can keep smooth drainage system.