Lumei is one of the leading uPVC profile manufacturers in China since 1995.we supply pvc window profile pvc door profile pvc window frame door frame profile for uPVC casement windows and upvc stable doors upvc patio doors etc to many countries.Our Factory locates in Jinan city, has 14 producing lines, one independent laboratory with modern test machinery, mixing workshop, one window making shop with completed making systems and one latest storage.Product in lead free formula and issued by CE certification. Mold sizes in 60mm/65mm/70mm/80mm/88mm/108mm.We are also the one stop-solution supplier of window and door systems.We Are Co-Extrusion Pvc Profile Windows Manufacturers, producing u-pvc profile since 1995 years. Products are divided into 60/65/70 open series,80/88/108/60 push-pull series;ASA and PMMA double-colore co-extrusion profile;full colors profile;wood laminated profile;soft-hard co-extrusion profile;wire drawing profile;embossing profile;uv-resistance profile--

Why choose pvc profile windows and doors?(1)The plastic steel pvc profile window has the characteristics of heat insulation and heat insulation, which makes the living room more comfortable and quiet and more modern appearance.(2)It also has the advantages of acid resistance, alkali resistance, corrosion resistance, dust resistance, self-extinguishing flame retardance, high strength, non-deformation, and harmonious color tone. It does not need to be coated with anti-corrosion paint and is durable.(3)And its air tightness and watertightness are larger than those of similar doors and windows.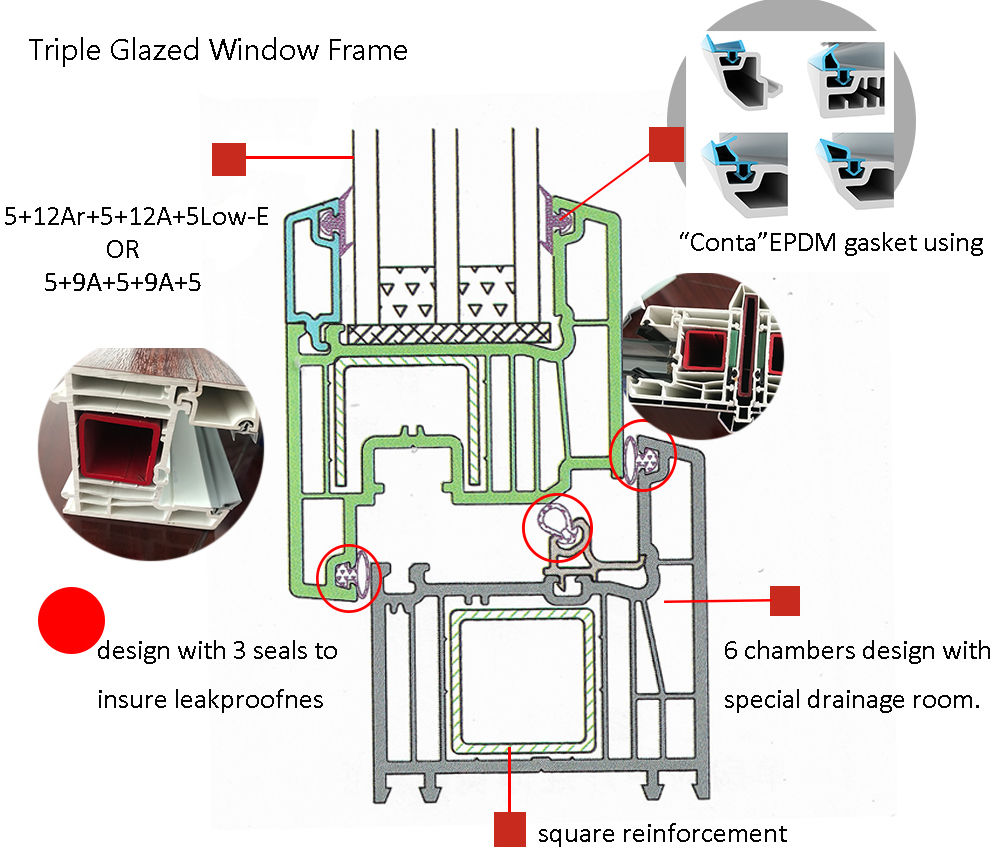 How to clean upvc window?
1. The dust on the doors and windows should be cleaned regularly to keep the doors, windows, glass and hardware clean and bright.

2. If the door and window are contaminated with oil stains and other difficult to clean things, you can use Jieer Liang to scrub, but it is best not to use strong acid or strong alkali solution for cleaning, which not only makes the surface finish of the profile damaged, but also destroys the surface of the hardware. The protective film and oxide layer cause corrosion of the hardware, especially when some customers are cleaning the wall with sulfuric acid, be careful not to get the door and window infected.

3. The debris inside the frame should be cleaned in time to prevent the drainage channel from being blocked and causing poor drainage and water leakage.

4. When opening the doors and windows, the strength should be moderate, try to keep the speed even when opening and closing.

5. Try to avoid hitting the door or window with a hard object or scratching the surface of the profile.