casement plastic pvc-u profile for windows and doors with ce certification 
60 casement Products Advantages:

1,Profile of the design for muliple cavity structure,improve the heat preservation,should insulation function of material itself.
2,with three EPDM sealing strip,the sealding performance is better.
3,There is an independent drainage cavity,supporting the gauze fan profiles,unique top groove,the sealing is more superior.
4,The large size of steel lining cavity,and the use of special steel lining in full compliance with inner cavity shape,increasing the intensity of the window and firm performance.
5,Through different size glass bead configuration,convenient for selection and installation of different thickness of glass.
6,The design of profile section size is more reasonable, to meet the require ment of the force of the window.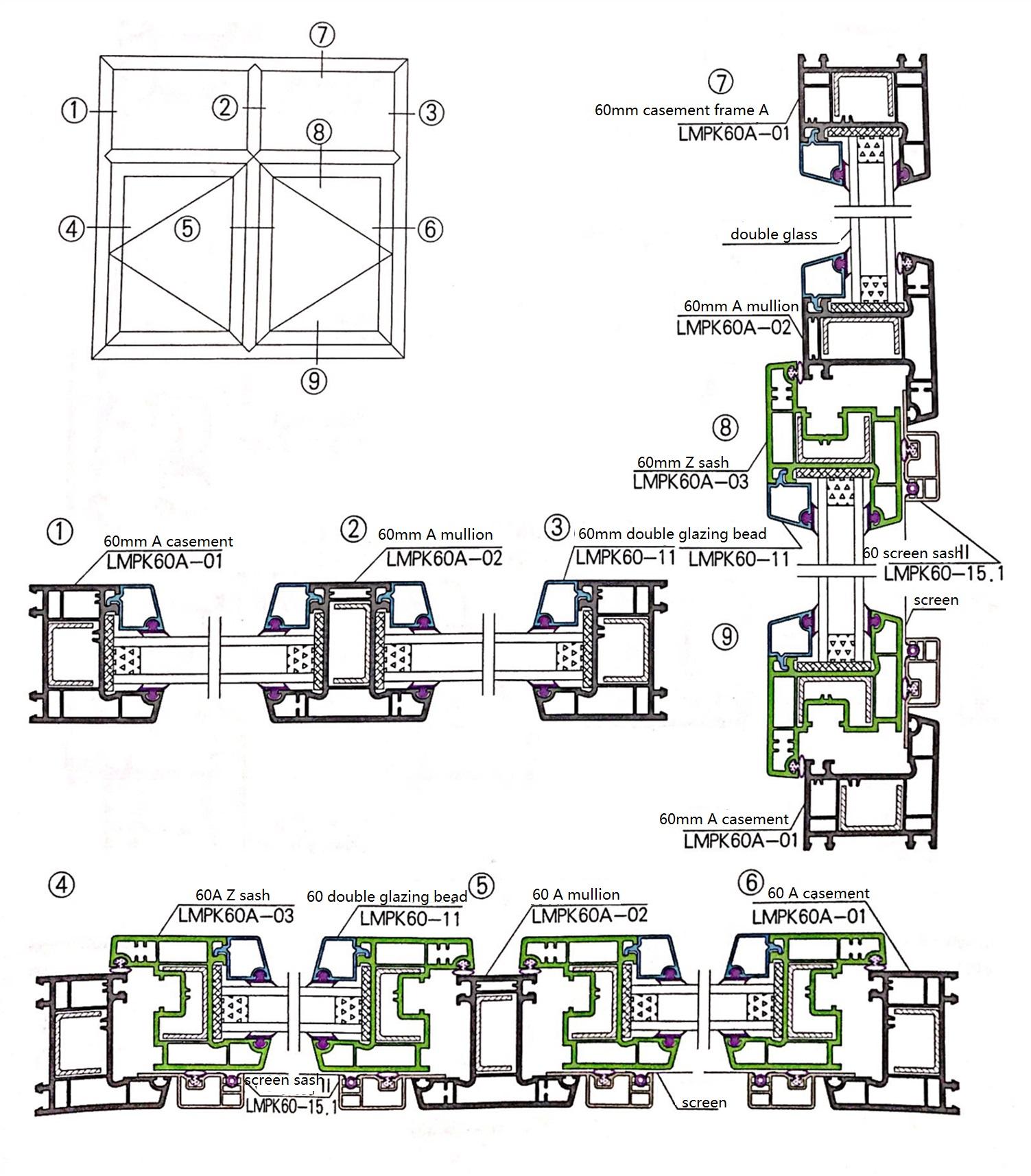 60 casement plastic pvc-u profile building materials products details
The country's profiles for steel doors and windows are generally A/B/C type three, A type is the visual surface wall thickness not less than 2.8MM, B class, 2.5MM; C class does not make special requirements. The regular profiles should be above 2.0mm. According to the engineering requirements and the cross-section structure, the wall thickness will be different.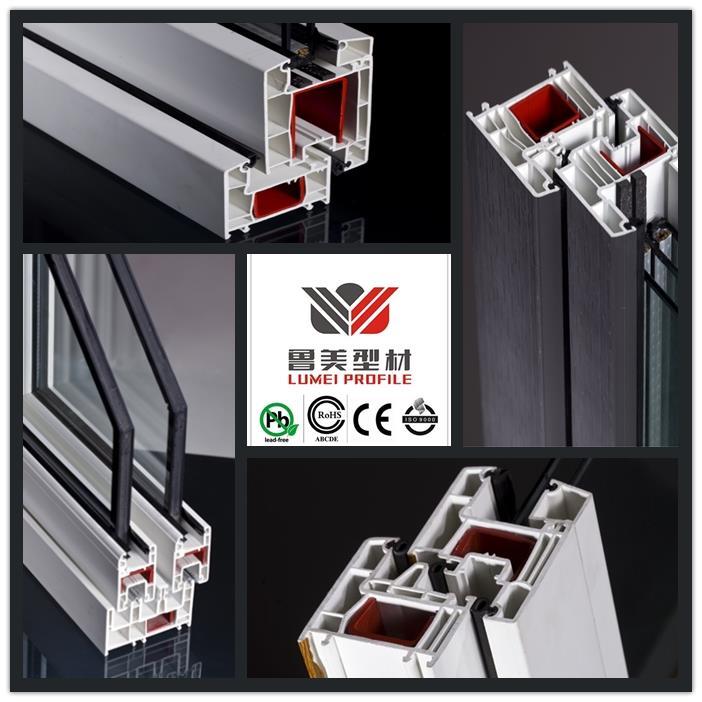 Why choose pvc profile windows and doors?
(1)The advantage is that the open area is large, ventilation is good, sealing is good, sound insulation, heat preservation, and impermeability are excellent. Open window cleaning is convenient; open space does not occupy space
(2). Thermal insulation and energy-saving: Multi-cavity structure of plastic steel profiles, with good thermal insulation properties
(3). Air tightness: All gaps installed in plastic steel doors and windows are equipped with rubber seals and tops
(4)watertight: plastic steel profiles have a unique multi-cavity structure, both have independent drainage cavity
(5)wind pressure resistance: have independent plastic material cavity. Casement window, wind pressure strength up to six or more, low-rise buildings can use external flat window or small section sliding window, wind pressure strength is generally in three.
(6)corrosion resistance
(7) steel profiles using a unique formula to improve its cold resistance. Plastic doors and windows can be used in a long temperature difference in the environment (-50 °C ~ 70 °C), the sun exposure, humidity will not make it appear deterioration, aging, Embrittlement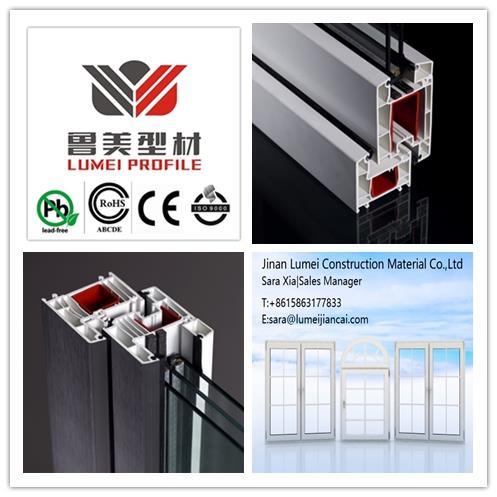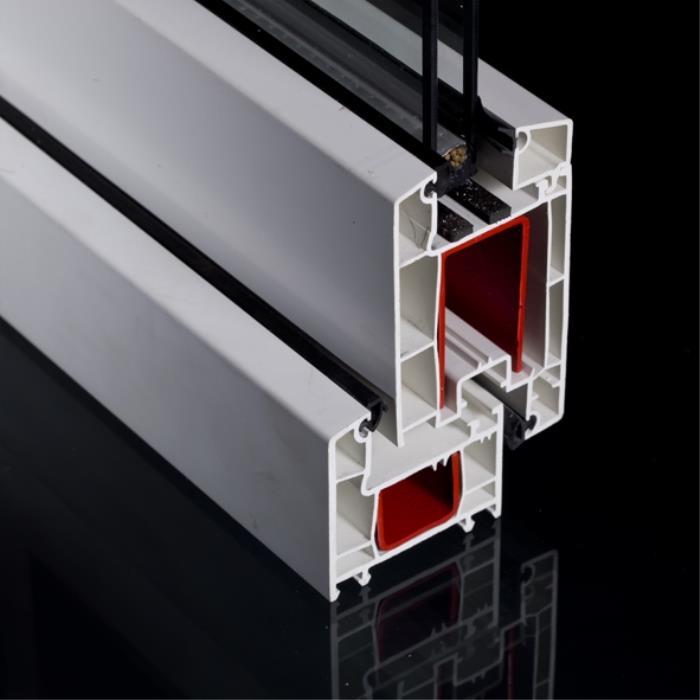 certification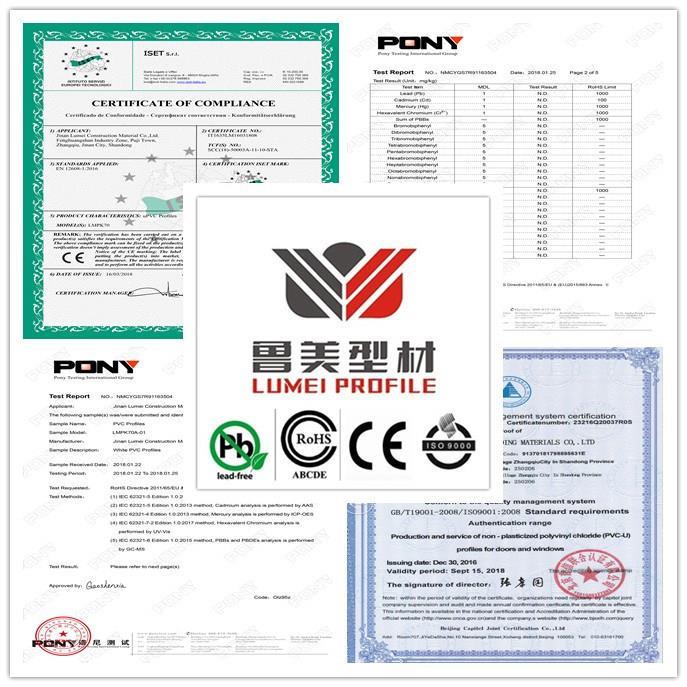 Welcome here:
Sara Xia  |  Manager
Jinan Lumei Construction Materials Co.,Ltd 

Tel: 008615863177833
sara@lumeijiancai.com
We Are Co-Extrusion Pvc Profile Windows Manufacturers, producing u-pvc profile since 1995 years. Products are divided into 60/65/70 open series,80/88/108/60 push-pull series;ASA and PMMA double-colore co-extrusion profile;full colors profile;wood laminated profile;soft-hard co-extrusion profile;wire drawing profile;embossing profile;uv-resistance profile…… Our products always are lead free and issued by CE/ROHS certification.