Product Description
Lumei upvc profiles factory started producing buliding materials since 1995 years. and our products Sold throughout the country, has done many government projects, including many foreign countries, Asia, Thailand, Myanmar, Vietnam, Pakistan, India, Indonesia, and some Central American countries, Guatemala, Honduras, El Salvador, European countries, Britain, Spain, Belgium, Italy and so on.Especially, our casement series 60 mm three chambers profiles and six chambers 70mm casement series upvc profiles. Our 60/70 mm casement windows and doors also very popualr in many country market.All pvc profile,pvc window profile,pvc door profile,pvc window frame,door frame profile for upvc casement window and upvc sliding windows.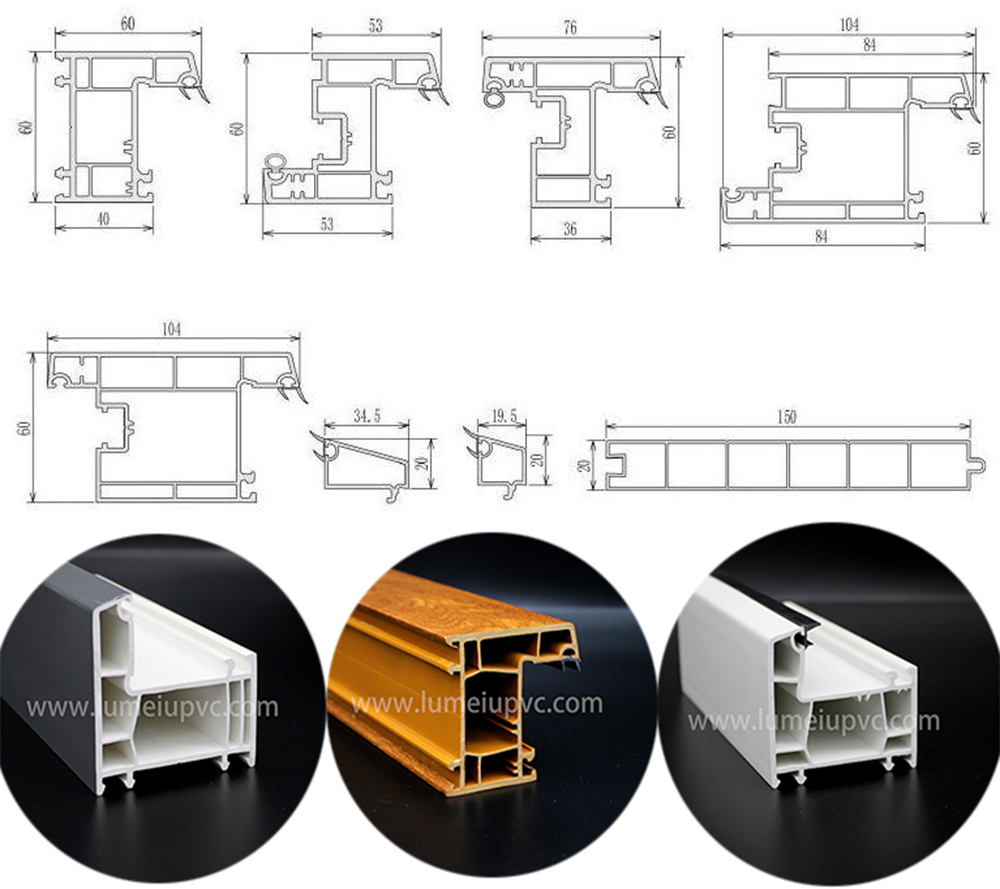 70mm six-chambers upvc profiles series white color/grey color/black color/wood lamianted color/ASA technology colors for your choice!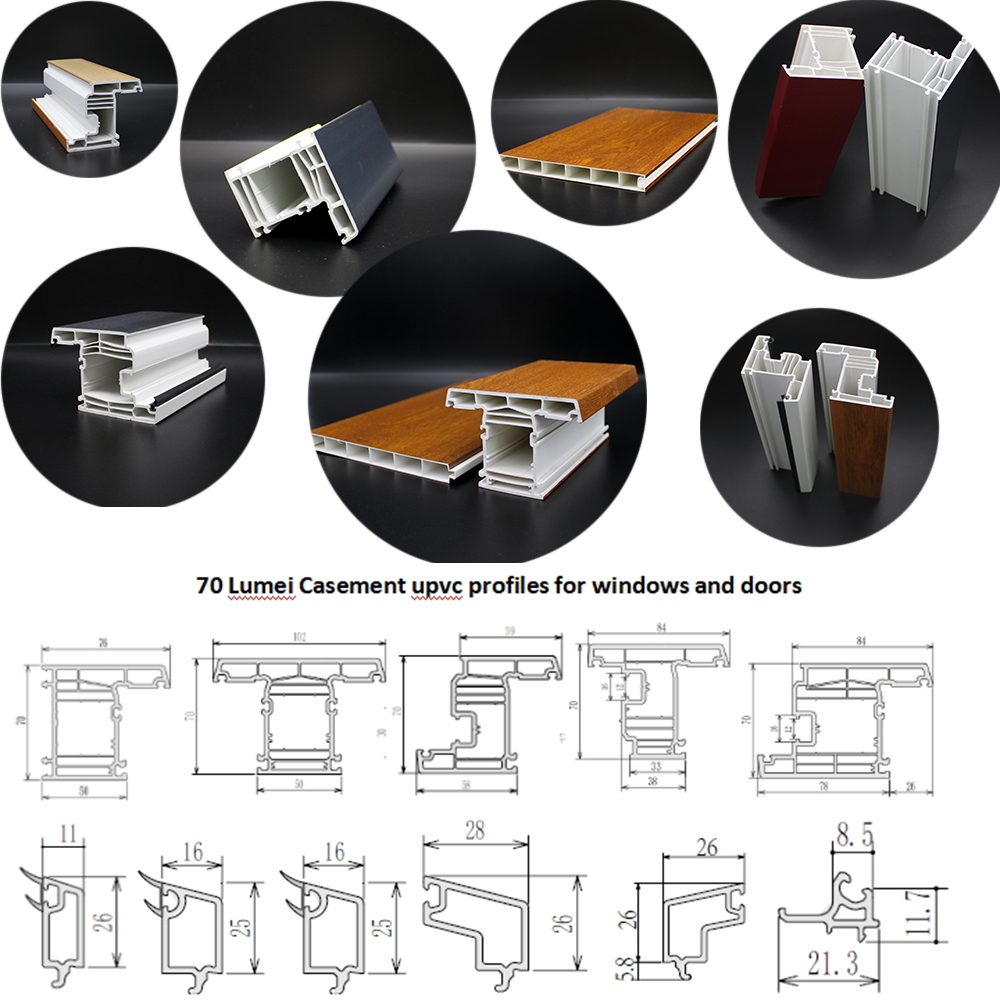 casement upvc Profiles advantages:
1) Energy Efficiency
The main good things about the uPVC windows may be the increase in energy efficiency, that is a lot greater than the steel or aluminum alternatives.
uPVC is more of the insulating material, meaning less heat is lost from a home. Wooden frames are better than steel and aluminum at limiting losing
internal heat, though these frames still aren't as efficient as uPVC windows.
2)Waterproof
Its water absorption is <0.1%. The doors and windows are designed to have rainproof plates and water drain slots, and can completely isolate the
rainwater outside of your room. Its waterproof performance complies with DIDN18055.
3) Anit-UV.
Imported denaturalizing agent is applied, and the agent for preventing UV rays absorption is added in the raw materials. The product does not discolor,
and become aging or brittle even when it is exposed to direct sunlight, rainstorm, drying or humidity between -30°C and 70°C.
4) Maintenance Free.
an un-plasticized polyvinyl chloride window gets extremely high marks for being simple to maintain. A well-installed uPVC window is resilient to fading,
rusting, rotting, and flaking. Whereas, the alternative of a wooden window frame often requires regular maintenance and care, like a have to re-paint
every 5 to 10-years. uPVC frames only need a basic clean and wipe down every so often, which could save a lot of time and expense on maintenance
within the lifetime of the windows.
5) Sound Insulation.
Its structure is designed very well, with tight joints. The test result indicates that its sound insulation is <20db and complies with DIDN4109
6)It can meet different customer's window types, casement window, inner opening inner window, fixed window, and can be connected at any angle by using connecting materials. It can also be used with three layers of insulating glass and double-layer insulating glass.
7)It can achieve airtightness of 4 grades, watertightness of 3 grades, wind pressure resistance of 4 grades, and insulation of 8 grades.
8)All of our upvc profiles are 100% lead free materials and be ensured by CE/RoHS/ISO9001.

All upvc profiles suitable for many types size windows and doors, mulit colors for you choice! white/grey/black/brown/wood colors etc.

Regarding plastic steel doors and windows, we recommend that users should be repaired and maintained once every six months to one year. Generally check the following five aspects:

A. There is no crack in the weld of the profile of the door and window frame or the fan.

B. Whether the door and window sash has obvious deformation, warpage, and flat fan sag.

C. Check the seal strip and the strip for shrinkage, deformation and voids.

D. Whether the hardware accessories are broken, damaged or tight.

E. Is the drainage hole unobstructed?
In order to give full play to the advantages of plastic steel doors and windows, and extend the service life of plastic steel doors and windows, in the course of use, attention should also be paid to the maintenance and maintenance of plastic steel doors and windows:


The dust on the doors and windows should be cleaned regularly to keep the doors, windows, glass and hardware clean and bright.
If the doors and windows are contaminated with oil stains and other difficult to clean things, you can use Jieer Liang to scrub, and it is best not to use strong acid or strong alkali solution for cleaning, which will not only damage the surface finish of the profile, but also damage the surface of the hardware. The protective film and oxide layer cause corrosion of the hardware.