Product Description
Our Lumei Construction Material Co.,ltd are one of professional factory to supply uPVC Porifles&Accessories&Machinery for Windows And Doors.We mainly produce window and door hardware accessories, such as friction stays, casement& sliding handle ,sliding lock, aluminium hinge, profile lock, sliding roller and so on.We have excellent technical strength and strict quality inspection processes.All of our products comply with international quality standards ISO9001 and are greatly appreciated in a variety of different markets throughout the world.With years of experience, we have grasped the processes operation and mouldingdesign, then timely solve the problems of each process. Thereby, the production capacity and quality have been greatly enhanced.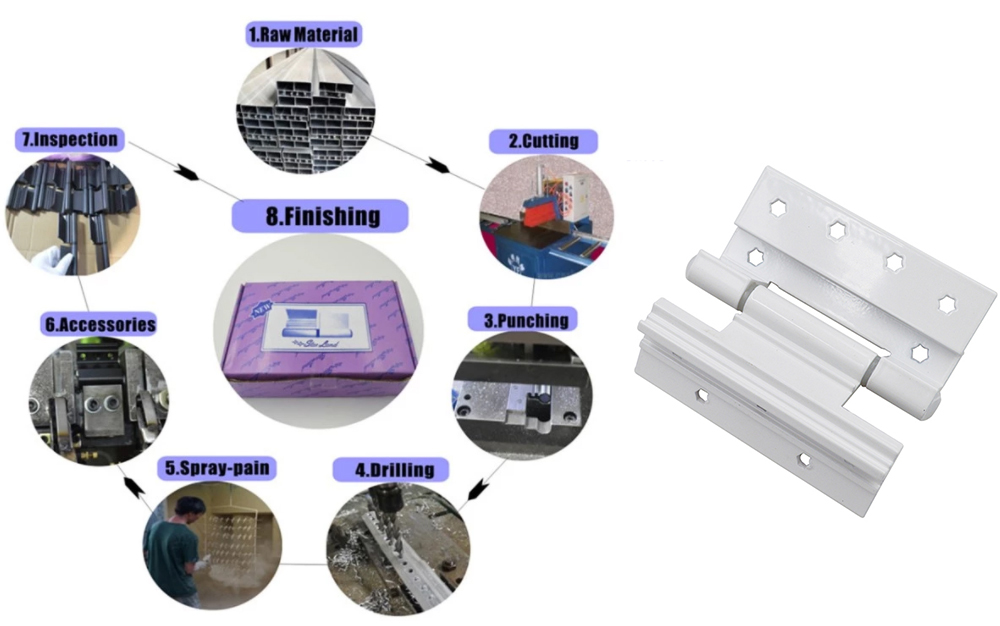 upvc window handles,upvc window locks,upvc door locks, rollers,upvc door hinges, gaskets and other hardwares for your choice! Espag Window Hinge: Generally used for cabinet doors, windows, doors, etc. Made of iron, copper and stainless steel!

The installation hinges are exquisite, and the six main points to note are:
(1) Before installation, check whether the hinge matches the door and window frame and the fan.
(2) Check if the hinge slot and hinge height, width and thickness match.
(3) It should be checked whether the hinges and the screws and fasteners connected to them are matched.
(4) The connection of the hinge should be matched with the material of the frame and the fan. For example, the hinge used for the steel frame wooden door, the side connected to the steel frame is welded, and the side connected with the wooden door fan is fixed by wood screws.
(5) In the case where the two sheets of the hinge are asymmetrical, it should be discriminated which board should be connected to the fan, which one should be connected to the door and window frame, and the side connected to the three sections of the shaft should be framed Fixed, the side connected to the two sections of the shaft should be fixed to the door and window.
(6) When installing, ensure that the hinges on the same fan are on the same vertical line to prevent the door sash from bounce.

Other Accessories for uPVC stable doors,uPVC back doors,upvc patio doors,upvc sash windows,upvc sliding windows,upvc casement windows, If you have any needs of hinges,rollers handles ,welcome to contact us!