Product Description
Jinan lumei building materials co.,ltd is a professional manufacturer to produce pvc profiles for windows and doors. It has entered the building materials industry since 1995 and still now has been working for pvc profiles more than 20 years.We have the best outstanding team ,exquisite manufacturing, strict quality test and we will offer the best service to our every customer.we have casement series 60/65/70mm, sliding series 80/88mm.

UV resistence UPVC profiles
Ultraviolet Coating-General The adding of a white layer on the surface of uPVC profiles, to protect and/or enhance the appearance of products. Coatings is more than just a UVprotective skin, they provide the product optical and haptic characteristics.
Our products are specifically built to withstand harsh weather conditions and protect from strong uv exposure so there is no compromise in the uv resistance of the product even under the strong sun! Our upvc profiles layer material are especially uv resistant windows treated with titanium di-oxide 5%; this ensures that even years of exposure to the sun will not deteriorate them. Uv resistant is a great benefit especially in tropical countries like India where the sun is always strong and the danger of overexposure to harmful uv rays is always high,uPVC profiles very easy to discoloration in short time .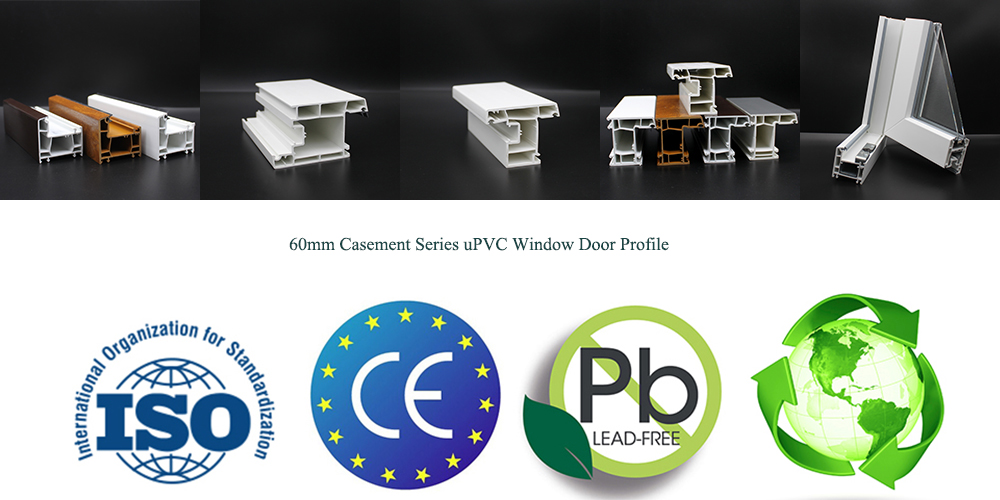 For your choices,we can supply sliding series and casement series uPVC profiles . In white color,wood grain&laminated profiles are available. Sliding series:60mm / 80mm/ 88mm/ 108mm Casement series :60mm/65mm /70mm All our profiles made by lead free formula and meet CE certification.
General Features
-Thermal insulation value of the standard combinations Uf = 1.6 W/m²K
-Glazing thickness up to 22 mm
-Outstanding sound insulation up to sound transmission class IV (43 dB)
-Triple design variety in the sash (recessed | semi-recessed)
-Available in different profile shapes
-Concealed drainage is possible
-3-chamber backstop gasket system with two sealing levels
-Special security hardware guarantees the highest level of burglary protection.
-Available in countless decor finishes
It is offered as cost and performance product, meanwhile appeals to the eye with decorative looks and more elegant design than its peers. It adds value to your place.It has 3 chambers and 60 mm seating surface width. Produced with TPE gasket and self-gasket provides sealing with corner welds. It has faultless and aesthetic desing that can cater to every taste with decorative and self-gasket glazing bead. Support aluminum threshold and many auxiliary profile, has functionality that you can use each project. It has special propensity to facilitate water drainage, provides low inventory cost with one type of support sheet and one type of gasket, can work in harmony with fly screen, shutter and shutter systems. Ithas perfect design in world standards which is compatible with all domestic or foreign accessories.